Notice of KMBA's 10th Annual General Meeting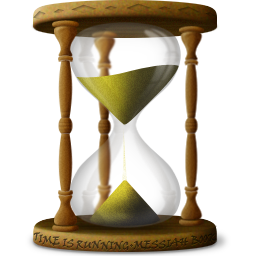 April 18, 2016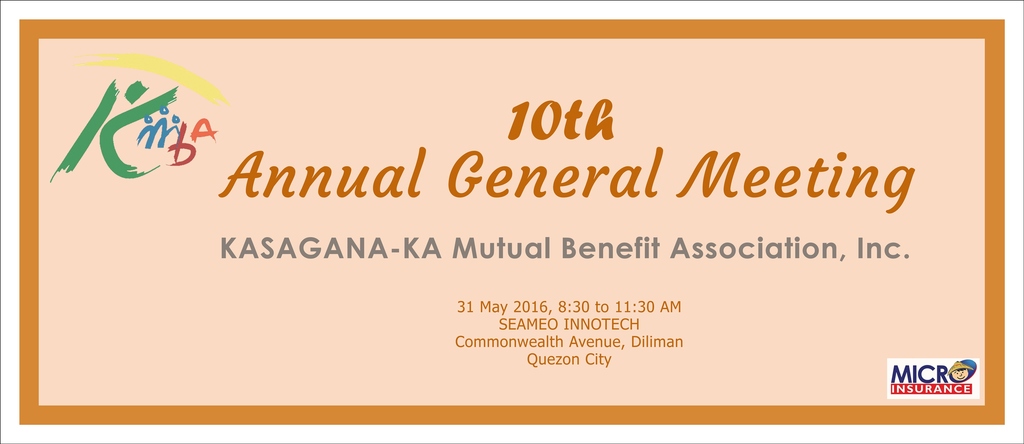 KASAGANA-KA MUTUAL BENEFIT ASSOCIATION
5 Don Francisco St., Don Enrique Heights, Barangay Holy Spirit,
Commonwealth Avenue, Quezon City 1127 PHILIPPINES
Notice of KMBA's 10th Annual General Meeting
Dear KMBA Members,
Please be informed that our next KMBA ANNUAL GENERAL MEETING is scheduled on MAY 31, 2016, Tuesday, at SEAMEO INNOTECH, Commonwealth Avenue, Diliman Quezon City, to consider and approve the matters set forth in the following agenda:
AGENDA
I. Invocation
Prayer will be led by one of the assigned members of the general membership.
II. Determining the quorum
The Board secretary will make a roll call and determine quorum. At least two-thirds of the regular membership constitutes a quorum.
III. Review and approval of the agenda
The board of trustees may comment and/or approve the agenda as proposed.
IV. Approval of the Minutes of the 9th Annual General Meeting
The members review the minutes of the last annual general meeting held on June 26, 2015 at the DEHHA Clubhouse, Don Enrique Heights, Barangay Holy Spirit, Quezon City for approval. Copy of the minutes were provided to members on May 29, 2015.
V. Presentation of the President's Report
Elizabeth N. Yayon, the incumbent President will deliver her message, which needs acceptance by the general membership.
VI. Presentation of the Financial Statements and Independent Auditor's Report of BDO Alba Romeo & CO., CPAs as of December 31, 2015
Judea Gutierrez, incumbent treasurer will provide a summary report of the key financial statement's figures as of December 31, 2015, as reported by BDO Alba Romeo & Co., CPA's, external auditor, reviewed and accepted by the Board of Trustees through the General Manager, Silvida Reyes-Antiquera. This needs acceptance by the general membership.
VII. Approval and ratification of Board and Management Actions
A list of major policies and activities acted upon by the Board of trustees and management in year 2015, significantly forming part of the President's report that needs approval from the general membership.
VIII. Election of the Board of Trustees
Regular members will elect five (5) members of the board of trustees that will serve for a Three (3) year term. The method of election is through 'proxy voting.'
Election of the Board Officers
The elected members of the Board will elect among themselves the officers including the President, Secretary and Treasurer through 'viva voting' or 'secret balloting.'
IX. Appointment of an External Auditor for 2016 FS
BDO Alba Romeo & Co., CPA's is the external auditor of KMBA for the past two (2) years. Confirmation is needed from the general membership
X. Induction of Board of Trustees
The elected Board of Trustees will take oath of office before they assume leadership by June 1, 2016
XI. Other matters
XII. Adjournment
JERLENE B. PEREZ
Corporate Secretary