Proposed Amendments to the Articles of Incorporation
April 26, 2018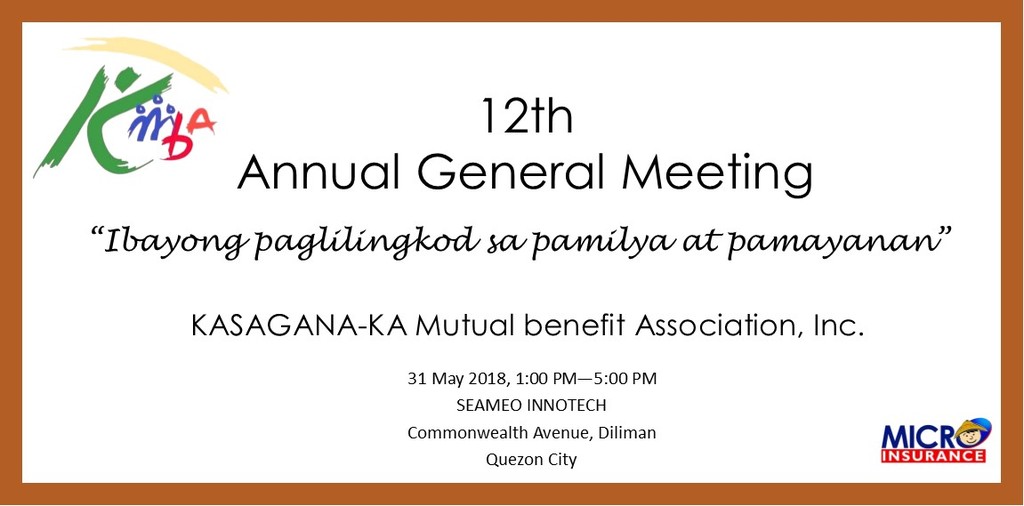 Dear KMBA Board and members,
Here are some of the proposed amendment of the Amended By-laws for board approval & ratification on 12th Annual General Meeting, May 31, 2018
Association is incorporated are:
Second
1. To promote the welfare of the poor;
2. To extend social protection servicesby providing for the payment of life, sickness, accident, pension and other benefits exclusively to its members;
3. To ensure continued access to benefits/resources by actively involving the members in the direct management of the Association that will include implementation of policies and procedures geared towards sustainability and improved services;
4. To provide benefits in kind and other relevant financial assistance to its members; and
5. To establish partnerships with foreign and domestic entities in promoting microinsurance through sharing of best practices.
THIRD: That the place where the principal office of the corporation is to be established or located is at Rm. 504 F&L Building, Brgy. Holy Spirit, Commonwealth Avenue, Quezon City, Philippines.
EIGHT: That no part of the net income shall inure to the benefit of any member, trustee, officer, or any private individual or entity which the Association may obtain as a result of its operation. No compensation or any remuneration shall be paid to its Trustees
NINTH: That ROSALINA VERGARA has been elected by the members as Treasurer of the Association, to act as such until her successor is duly elected and qualified in accordance with the By-Laws, and that as such Treasurer, she has been authorized to receive in the name and for the benefit of the Association all contributions paid by members and donations given by individuals, private and government institutions.
ELEVENTH: That the Association shall comply with all requirements for non-stock, non-profit, mutual aid associations in the course of its operations.